These light and spacious rooms give guests the chance to enjoy fantastic views of the Alps from the comfort of their bed. The rooms are suitable for both couples and families with children. The traditional decor in each room features plenty of wood-panelling with intricate carvings.
Amenities
WiFi
Shower
Bathtub
Toilet
Balcony
Bathroom
Kitchen
Fridge
Hair dryer
Telephone
Safe
Flatscreen TV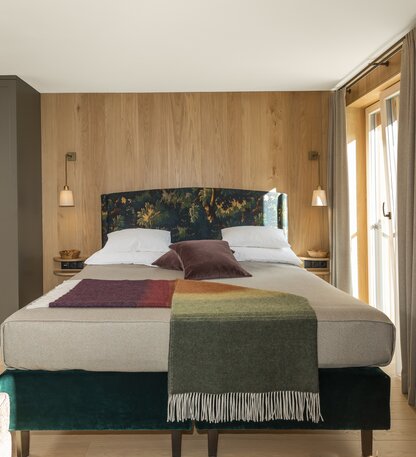 Price list
Our prices are per room per night and included all standard services. A local tourism tax of €3.80 per person per night must be paid when you check out.

Booking directly via our website guarantees that you get the best price and your booking is 100% secure. Please feel free to let us know when booking if you have any special requests for your stay.
Accommodation with breakfast and homemade cakes in the afternoon
Apartments with homemade cakes in the afternoon : breakfast can be booked as extras (subject to availability), bread delivered to your door
We will be happy to put together a made-to-measure holiday offer for you and your children at the Hotel Schranz.
Free cancellation up to 3 months before arrival
Cancellations up to 30 days before arrival – 40% cancellation fee
Cancellations 30 to 7 days before arrival – 70% cancellation fee
Cancellations less than a week before arrival – 90% cancellation fee
Cancellation on day of arrival or early depature – 100% cancellation fee

The cancellation fee will not be charged if we are able to find another guest to take your room(s) on the days for which you had booked.

Bookings are subject to the General Terms and Conditions of the Hotel Industry from the year 2006 (AGBH 2006)
Book now for an active holiday in the Austrian Alps!
Get in touch. We are happy to help.